Get the Details Honda Spare Parts Supplier in India:- We are the top Honda spare parts supplier in India to present different automotive components at affordable prices. We provide exported products of the brand to replace the old and damaged Honda automobile with long time functionality. As a spare part supplier, Findspares store is a reliable dealer and delivers products all over India. You can order automobile spare parts like a Honda Spare Part bonnet, Honda Spare Part insulator, Honda Spare Part NGK iridium spark plug (in combo), Honda Spare Part Monroe rear shock absorber, Honda Spare Part power steering hose pipe, and many more. Features that make us the best selection for you.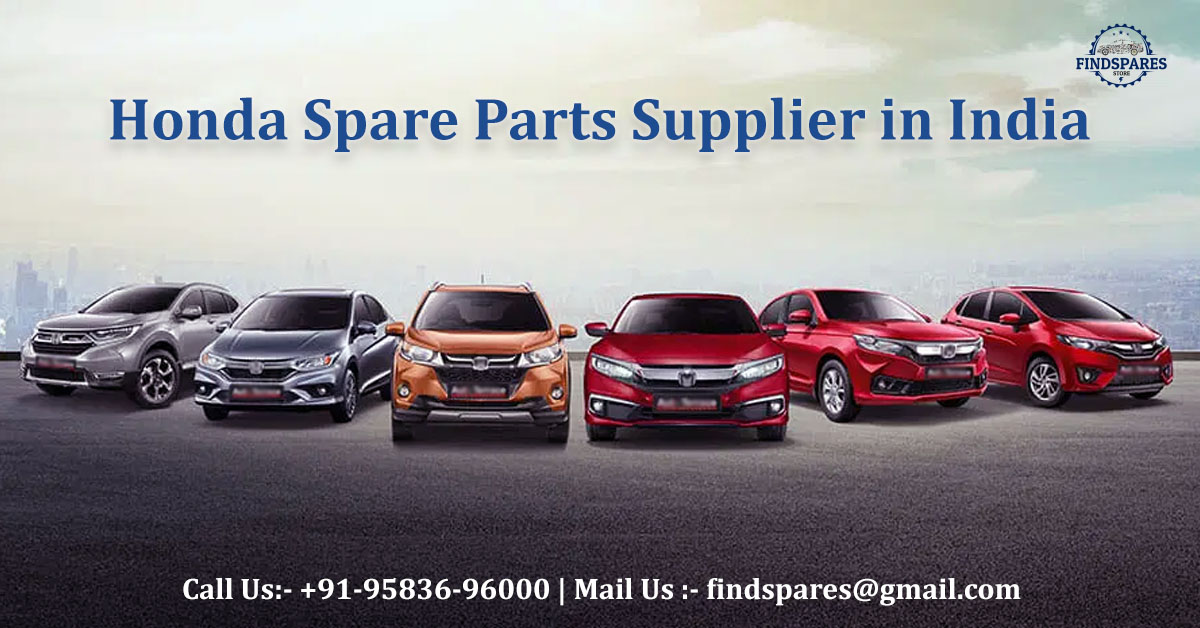 Cost-effective best Honda Spare Parts supplier in India
We are the best Honda spare parts supplier in India. Findspares.Store offers quality spare parts at affordable cost. Our costs of these parts are always low as compared to the market dealers. You can save a lot we us.
Communicates well: – Our professionals communicate well with the people to understand the requirements of these parts or products. We try to know the complication and supply the best solution. You can also contact us to know the features of these parts before buying. We explain them well.
Accessories for commercial as well as private automobiles: – Our Honda engine spare parts are available for both commercial as well as personal use. You can buy a single product as well as a combo. We supply these for suppliers or automotive engineers in your locality. We serve our customers on demand regularly or one time as well.
Flexible policies on buying products: – We cooperate with every client well. Our buying policies are always flexible and based on some terms. The buyers can do the easy payment and enjoy the return policies as well. They can check the product and, replace and return it without any hindrance.
A large variety of spare parts in different quantities of Honda Spare Parts in India
We have a large collection of spare parts to meet buyers' needs. We can provide these to the suppliers as well as one person. You can easily get Honda engine spare parts, Honda gear Parts, or other accessories for your Honda automobile. Our Honda Gear Spare Parts are original and durable.
No duplicate products: – Our Honda Other Spare Parts are original and warranted. There is no chance of duplicate products. We sell these products with complete authorization and deal with original Honda production only.
On-order and ready-to-ship products:- We understand the need of Honda users and provide the parts accordingly. Most of the parts are already available at our online shop or we provide these on order. We dispatch most of our orders within 24 hours and try to reach the buyers as soon as possible.
We have all those features that an automobile user requires to maintain their vehicle. We can help to manage the damage with our supply. We are affordable and reach your doorstep. You can resolve all your queries before finalizing and buying your order.
Honda Accord Used Spare Parts in India                    Honda Spare Parts Supplier
Honda Civic Car Spare Parts                                            Honda Parts India
Honda CR-V Old Spare Parts                                            Honda Car Spare Parts India
Honda HR-V Used Spare Parts                                        Honda Car Spare Parts
Honda Amaze Spare Parts Available                            Honda Spare Parts in India
Honda City Car Spare Parts in India                             Honda Engine Spare Parts
Honda WR-V Spare Parts                                                   Honda Spare Parts
Honda Jazz Used Spare Parts                                         Honda Accessories in India
Genuine Spare Parts Honda cars in India                  Honda Spare Part Insulator 
Finspares Store