Find Spares Store is one of the leading and most popular Skoda car spare parts supplier in India that provides its spare parts services across the country. We have spent several years in this industry and have complete knowledge to provide the only genuine quality products. We are a fully b2b-based company, which means our spare parts are provided to the dealers, shopkeepers and those who sell the products in bulk form. Directly from the manufacturer we buy these all products and steel them to our list at very reasonable prices as well. Also, our firm has huge warehouses to maintain the widest choice of Skoda car components in stock, including spare parts for other companies. As a result, our team members are always aware of their responsibilities for timely shipment and delivery. They also follow a set method when doing their services.
Thus, if you are looking for Skoda Car Accessories Suppliers in India call us now.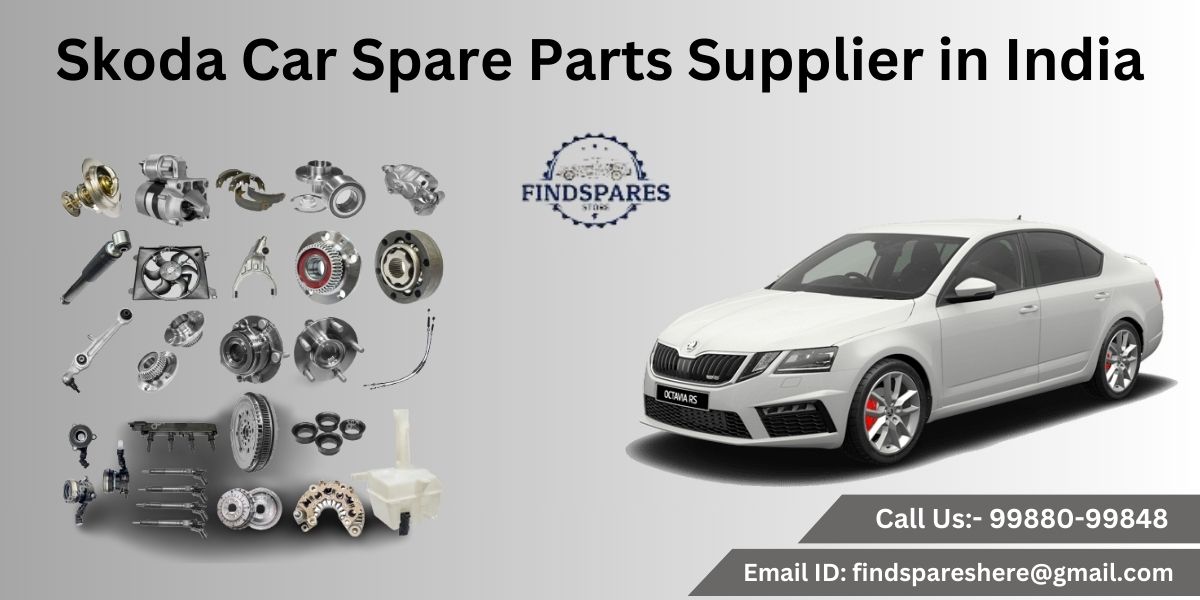 The leading Skoda car spare parts supplier in India, Find Spares Store
We are considered the leading and major Skoda car suppliers in India and various features of our company make this possible. From the beginning, we are also known as the only genuine part dealer. Right from the makers of these products, we provide our products to the customers. They are best suited for the Skoda cars and are reasonable in price as well.  Also, the main aim of our company is to give only quality assured products. Therefore all our products are delivered to our clients after complete checks of quality. Thus we can give the best quality products as the top car part supplier firm in India. 
Some of the other quality features of our company are as follows:
Guarantee protection

: All products include a guarantee. This warranty coverage gives our customers peace of mind since they know the components guaranteed by the manufacturer's promise of quality and performance.

Expert help

: As the leading vendors we have skilled personnel who offer expert help in picking the proper parts for your requirements. Also, they walk you through the many possibilities and assist you in making educated judgments.

Availability

: To be a well-established vendor we always keep a large supply of Skoda spare parts on hand. This means you're more likely to locate the components you need without having to wait for long periods, which is important if your automobile needs repairs.

Convenience

: We provide ordering methods that are handy for our customers, such as online platforms or dedicated customer care lines. This allows you to quickly search available components, place purchases, and have them delivered to your destination.

Reputability

: With years of experience and knowledge we are a reputable spare parts company by providing consistent quality and dependable service. Also,  using our services decreases the possibility of acquiring counterfeit or poor components.

Performance and safety

: All our genuine components engineered to function in unison with all Skoda models, assuring maximum performance and safety. Also, the use of our authentic parts reduces the possibility of malfunctions and accidents caused by defective components.
Factors influencing the car parts demand in India 
There are a few essential factors that are influenced to buy Skoda spare parts in India. Here we have listed those factors. 
Economic conditions

: The general economic environment in India has a considerable impact on car part demand. During periods of economic expansion, there is a rise in demand for autos, which stimulates demand for auto components.

Automobile industry development

: The expansion and success of India's automobile industry have a direct influence on demand for vehicle parts. If the automotive industry grows, there will most certainly be a greater need for replacement parts due to an increase in the number of cars on the road.

Vehicle ownership

: The number of cars on the road influences demand for auto components since vehicles require routine maintenance and repairs. As India's vehicle fleet grows, so does the demand for replacement parts.

Vehicle age

: Because older cars require more regular maintenance and replacement of parts, demand for certain components may increase. Parts demand is heavily influenced by the average age of cars on the road.

Road conditions

: The varied road conditions and infrastructure in India especially have an influence on vehicle wear and tear. Vehicles used on poor-quality roads require more frequent maintenance and part replacements.
Ending
Here we have discussed that Find Spares Store is the genuine and the major Skoda car spare parts supplier in India. If you are ready to work with us and deal in the best quality Skoda and several brands of car parts, call us now. 
Faq's
Where should you buy Skoda spare parts in India?
Ans. FindSpares Store is the most famous Skoda car parts company in India that gives genuine quality products.
Where can you get a genuine car parts dealer in Patiala?
Ans. Find Spares Store is the genuine Skoda genuine parts dealer in Patiala where you can get genuine car parts.