Who is the Volkswagen Genuine Parts Dealer in India?
Findspares Store has been regarded as the Volkswagen genuine parts dealer in India for the last 17 years. Our years of experience and knowledge of the auto parts industry allow us to provide genuine auto parts products to our customers. Since the inception of the firm, we have been renowned in this field for providing our clients with the greatest and most comprehensive variety of the highest safety and quality replacement parts. All of these items are available in several sizes and combinations from our firm.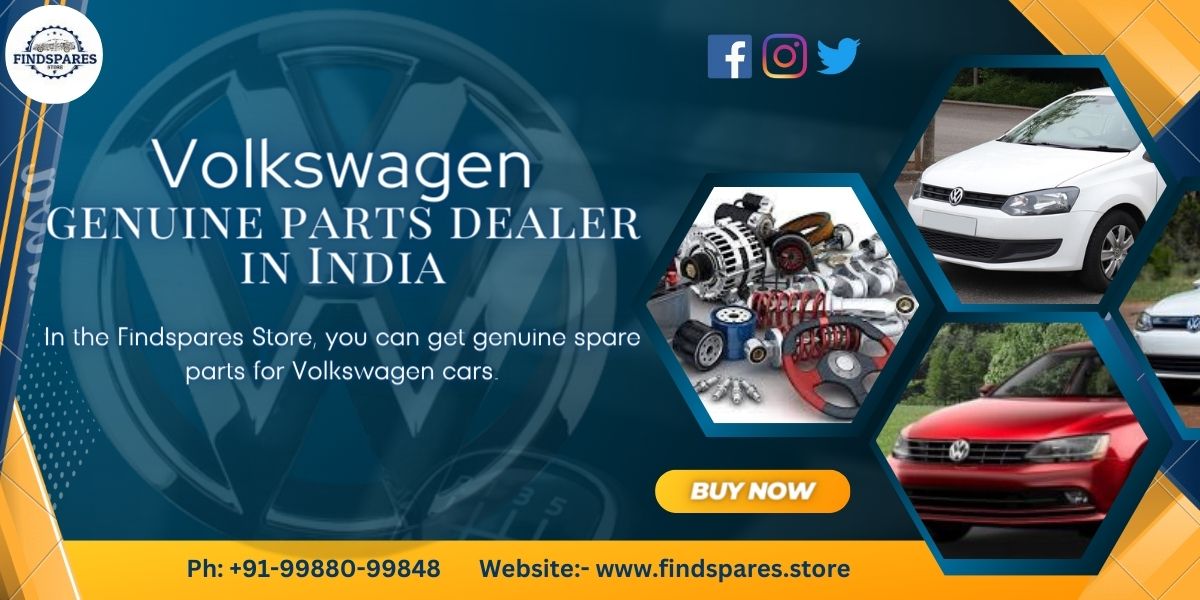 Additionally, we have a large team of qualified and recognized vendors to provide the widest product choice. They specialize in automobile components. Our company has large warehouses where we can store a large number of Volkswagen spare parts in order to have a wide variety of auto components in stock. As a consequence, our team members are always aware of their roles in ensuring prompt shipment and delivery. They also have a particular way of providing their services. As a consequence, our team members are always aware of their roles in ensuring prompt shipment and delivery. They also follow a certain procedure for providing their services.
Thus, car spare parts dealers who wish to establish their vehicle and automotive spare parts business and are seeking the top Volkswagen spare parts supplier in India should get in touch to Findspares Store right now.
Top-Quality Features of the Volkswagen Genuine Parts Dealer in India, Findspares Store
Sales of genuine Volkswagen parts:

We are the authorized Volkswagen parts dealers in India that sell a large choice of genuine Volkswagen car parts, engine components, body parts, electrical parts, and accessories. Volkswagen's quality and safety criteria met by these parts.

Spare parts availability:

We keep a large inventory of spare parts on hand so that our car parts dealers' clients receive the components as per their client's demand.

Warranty services:

We provide complete warranty plans on every car part we provide to our customers. Thus, for any kind of product repair or replacement, we are always ready for that. 

Technical assistance:

Our company provides complete technical information and assistance regarding Volkswagen car parts. Our customers can get car parts-related information from us anytime. 

Customer service: W

e provide customer service divisions to help with inquiries, appointments, and general customer service. This team helps our clients 24/7 and solves any kind of issue.

Volkswagen accessories:

To fulfill our client's demand in bulk, and as a

top Volkswagen car parts dealer in India,

we have a huge collection of Volkswagen and other car companies' accessories. For example, we have a huge list of floor mats and roof racks, entertainment systems, and so on in our car parts and accessories.
Unique Delivery Services Provided by the Leading Volkswagen Car Parts Suppliers
We provide the best delivery services to all our clients across India. For those clients who want car parts urgently, we provide them with expedited shipment alternatives. Also, for speedier delivery, we include overnight or two-day shipping.  Also, same-day or next-day delivery is provided by us in metropolitan areas or major cities. This is very handy for consumers who want new components right away. Rather, we provide scheduled delivery appointments, which allow customers to select a specified date and time for the delivery, which is extremely useful for busy people. Hence, at last, as the leading auto parts stores, we provide free standard delivery on purchases that reach a specific minimum purchase quantity, which is an appealing choice for budget-conscious shoppers.
Conclusion
In the last part of our discussion, we just want to tell you that we have shown you some important aspects related to Findspares Store Volkswagen car parts services. If you interested in getting services from a Volkswagen genuine parts dealer in India, call us now
Faq's
Ans. Findspares Store is considered the leading dealer of clutch plates that can provide these products and many other products in bulk form.
Q. Where can you find Volkswagen genuine spare parts in India?
Ans. In the Findspares Store, you can get genuine spare parts for Volkswagen cars.